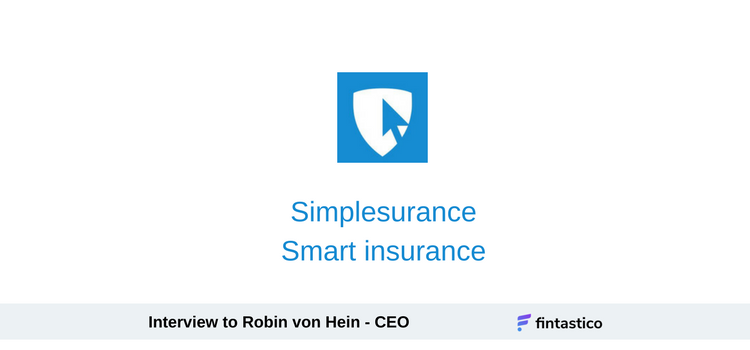 Dedicated to the global fintech community, it is our great pleasure to continue this series of interview with fintech and insurtech leaders with Robin von Hein, CEO of simplesurance and thought leader within the global insurtech community. 
You say to believe in easy and smart insurance: what makes your solution innovative? 
The preceding question is, what constitutes innovation? Considering the definition of innovation, which is a process of social, cultural, economic and technical transformation, and a recognition of a new idea or method, our solution is innovative because it has profoundly reshaped how people see and buy insurance. With our cross-selling solution which defines the additional sale of a complementary or related products, we have opened a new distribution channel for insurances: Customers can purchase insurance at the point-of-sale in an online store, where they buy either a smartphone, a tablet or even a bike or household item. This way, we have driven the insurance industry towards a paradigm shift and created an insurance service platform that connects differents sets of services that illustrate the entire supply value chain, starting with the sale of insurance, to insurance claim and repair management to after-sales support and extension of the customer life time by offering additional products within the insurance sector. 
When we developed our business model, Insurtech didn't have the same buzz, vocabulary didn't even have a definition for insurance technology. We benefited from our first mover advantage by pioneering the market with technological solution, connecting people and business. Over the last six years we were able to optimize and constantly improve our insurance service and our insurance platform. We work close with our eCommerce partners to guarantee the best results. 
Which B2C and B2B services you offer and in how many countries?
simplesurance is divided into three business units:
Our B2B-service is our cross-selling software that integrates into the checkout of our more than 2.000 eCommerce partners in 28 European countries who are shops, OEM and finance apps.
We also have flagship stores in nine European countries through which we sell product insurances and warranty extensions for a broad range of products to our end-consumers as our B2C-service. Our Italian brand is called Cliccasicuro. 
By the end of 2016, we also launched our broker service. This business diversification enables us to extend the customer life time cycle by offering them along the product insurances, also a digital insurance manager and persona broker who supports them with all insurance-related matters. Currently we offer this service only in Germany. 
What are the advantages of becoming partners and how many are they currently?
Working as an intermediary, we partner both with insurance and eCommerce companies. On the eCommerce side we currently have more than 2.000 partners, as well as several insurance companies as strategic partners such as Allianz; Munich Re and other. 
For insurance companies, we create a new distribution channel for acquiring new, technophile, younger and digital customers, in short: Millenials. For eCommerce, we create a competitive advantage in the constantly growing market. By offering their customer insurance to their products in shopping basket, our eCommerce partner can raise their maring and turn their customers into recurring customers. 
Allianz has invested in your company: proposing products of this only company allows you to be still competitive on the rates?
Allianz is not our only partner. We have both a financial and strategic partnership with Allianz, both are separated from one another. Besides, we have also Munich Re as an operational partner, with whom we operate in UK. Additionally, in Germany, where we currently have the broadest market, we have different insurance partner for differente types of products. That guarantees us to always offer the best possible offer. 
Does the Italian market have particular and distinctive characteristics? Which products are insured more? 
The Italian insurance market in particular is interesting, because of the almost total lack of online insurance offers before we entered the market. The Italian market is still dominated by traditional distribution channels, such as the Bancassurance model and agents network. However, we observed that the willingness to purchase insurance in a digital channel is very high among Italians. It's one of your fastest growing markets. The most frequent insured products are smartphones and laptops. It's important to note that mobile electronics in general is a preferred product category for all or our international markets. 
What development prospects do you have in our country? Do you plan to launch new products and services?
We constantly develop our product portfolio and are planning to launch a cyber insurance to secure all your online activities. It is clustered into five categories: The Digital Online Shopping Protection secures all risks that can occur while shopping online like not receiving goods, receiving damaged goods or fraudulent vendors who refuse to reimburse for the damage. Similar to this, the second category is Digital Online Banking Protection and supports the assured person in case of financial loss associated with online banking by unauthorized access to banking data or misuse of credit cards on the Internet. The third category Cyberbullying Protection provides insurance cover against any harming, harassing or defaming statements either through video, photo or writing on the internet. Additionally, this product contains a Data Loss Protection to recover data on physical storage devices and a Cyber risk Legal Protection. 
Will you offer your service in new countries in 2018?
Since 2012, when simplesurance was founded we followed the strategy of constant market penetration and are now active in 28 European countries. We'll continue to check new market opportunities and are currently analyzing the Asian market. 
Why so many different brands?
The goal was to create local brands that create closeness to our customers. A brand in the native language creates familiarity, which is our main approach. We want to make insurance tangible and easy and a brand that sounds familiar helps to achieve that goal.