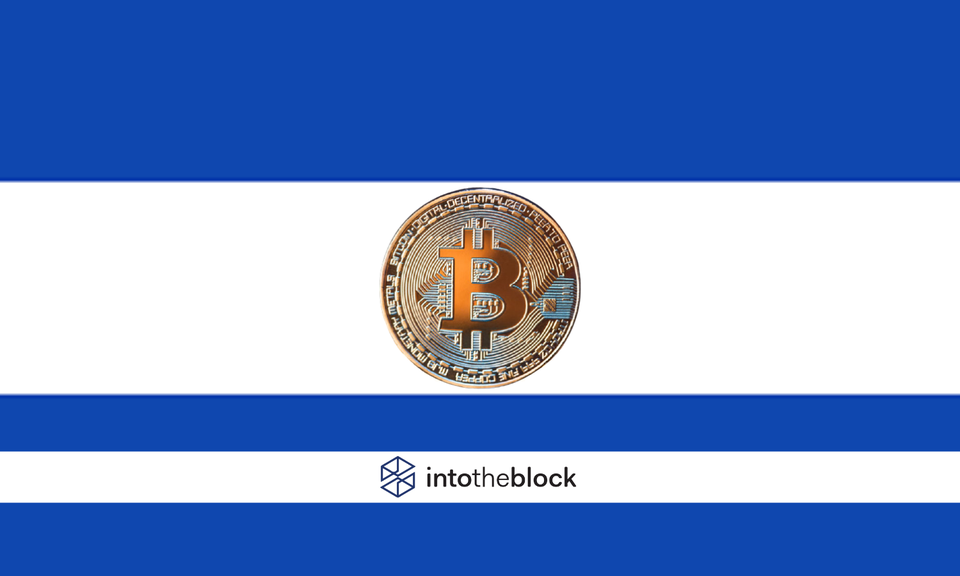 This short piece leverages IntoTheBlock data and analytics to provide valuable insights about the on-chain situation of Bitcoin. The last month of May led to the worst monthly performance of Bitcoin since September 2012, with -35% from the previous highs in April.

The crash mostly came after a month of rather unpleasant news, spearheaded by Elon Musk tweets, China banning mining (as they do every year) and India cracking down on exchanges. Many have argued that the bull run was over and cryptocurrencies were headed once more to a cold winter.
To counteract such reasoning, an unprecedented good news acted as a catalyst to bounce Bitcoin price off the $30k back to $40k: with 62 favorable votes, the Legislative Assembly of El Salvador approved a bill to recognize Bitcoin as legal tender in the country.
This is a historical first and it means that El Salvador will now be able to accept Bitcoin for all forms of payments. In addition, the country will likely develop appropriate taxation policies to boost cryptocurrency use. The Development Bank of El Salvador is also likely to enable the conversion of Bitcoin into USD.
El Salvador is the perfect use case of a country that can benefit from Bitcoin: in 2021 it was experiencing the highest levels of inflation since 2012 (averaging 3%) and an increasing consumer price index, a measure that examines the weighted average of prices of a basket of consumer good in any country. It is calculated by taking price changes for each item in the predetermined basket of goods and averaging them. In addition, the country is one of the most violent in South America, with the highest rates of murder per capita, with 52 intentional homicides every 100,000 people. For the first time, Bitcoin's use case as a legal tender is slowly being legitimized and, especially, much needed for countries such as El Salvador.
Following the general enthusiasm of the crypto community, after the announcement from the President of El Salvador, Bitcoin price surged by 11%, trading at $37,573. In addition, several politicians from Panama, Argentina, and Paraguay have all added laser eyes (a sign of support for Bitcoin) and stated that they will follow El Salvador initiative in their countries. A member of the Panamanian government, Gabriel Silva, also stated that Panama should follow the steps of El Salvador, if the country wishes to become a tech hub; to do so, he will soon bring forward a similar bill to establish Bitcoin as legal tender in Panama.
Ever since the recent FUD, the number of active new addresses holding Bitcoin for less than 1 month ("traders") has been declining, while those holding between 1-12 months (so-called "cruisers'') have been increasing proportionally. This is a sign that Holders' behavior is slowly becoming less speculative as a result of the recent correction.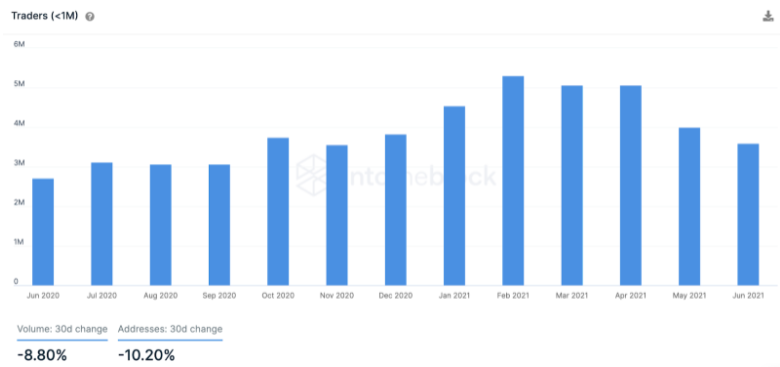 It is also an inversion of the previous trend started in 2020, where holders (those holding for >12 months) were slowly decreasing. Currently, hodlers are still the majority of wallets (22 million) at 58%, followed by Cruisers (12 million) at 32%, and last but not least traders (3.5 million ) less than 10%.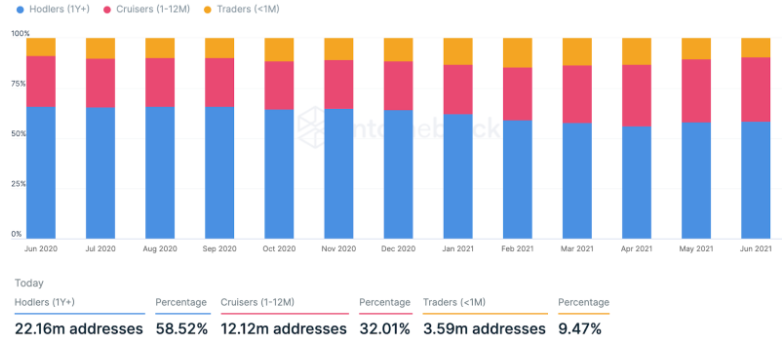 At the current price, more than 80% of the total wallets using Bitcoin are In the Money - which means that the average price at which they purchased Bitcoin is lower than the current price.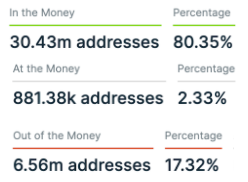 On the other hand, only 17% of addresses are currently out of the money (at a loss), and last but not least 2.3% bought at around the current price.
Furthermore, 6% of the total addresses bought at an all-time-high in terms of price, as the image below shows: more than 2.3 million wallets. As an interesting comparison, only 30k wallets purchased Bitcoin at an all-time low.

The past couple of months have been resulting in different sentiment boosts for Bitcoin. On the one hand, May has been the worst month ever since 2012 in terms of performance. As a result, there was an increase in speculation and users were increasingly trading Bitcoin in the short term. However, the trend is already reversing, as provided by IntoTheBlock analytics. On the other hand, Bitcoin has witnessed an unprecedented milestone in its relatively short history that strengthens its value proposition as a store of value. It will be interesting to observe whether such legitimization may be followed by other countries.
As Bitcoin regains strength and is pushing back to $40,000, it will be interesting to observe how the cryptocurrency will perform as a legal tender. This may very well be a break-it or make-it moment in the history of Bitcoin. From now on the currency will either experience greater legitimization or the new use cases and challenges may prove too hard for Bitcoin - in any case, exciting times are ahead! If the experiment run by El Salvador will prove successful, many smaller countries with deeply rooted financial and economic problems, such as hyperinflation are likely to follow suit.