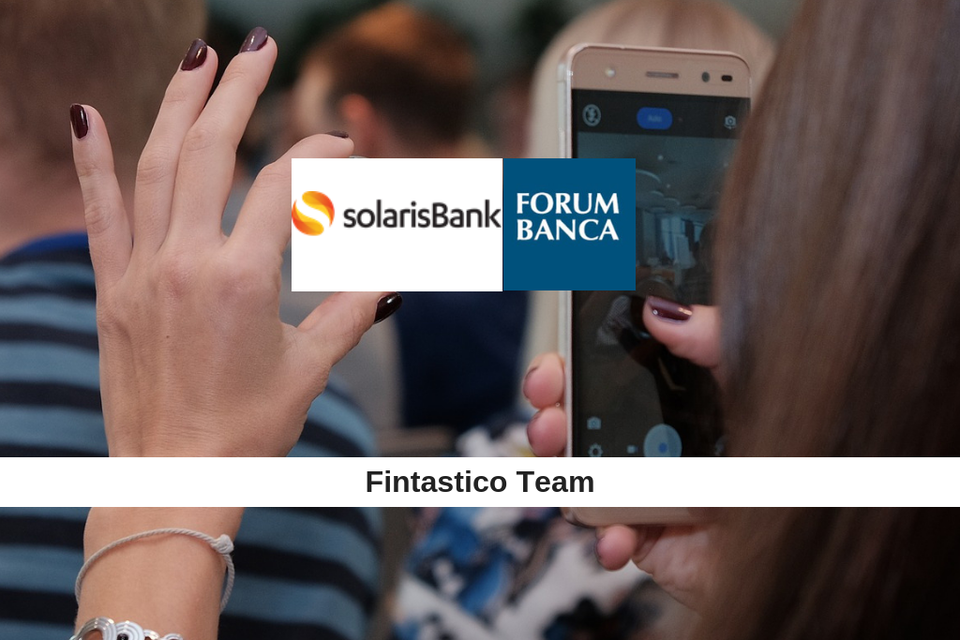 Marco Moro holds the position of Country Manager for Italy at solarisBank. Today, we will interview him on the idea behind solarisBank, its competitive edge, and the journey before their partecipation at Forum Banca.

What is the idea behind solarisBank?
Massively influenced by the products and services of digital pioneers in e-commerce (e.g. Amazon), in media (Spotify / Netflix) and hardware (e.g. iOS / iPhone), modern consumers expect to receive services on demand, whenever and wherever. 
However, this expectation has yet to be satisfied by traditional banks.
We perceive financial services as contextual, meaning that they are needed in different situations in different ways, and are thus becoming detached from the institutional bank.
More and more companies see this as an opportunity and are looking to offer innovative, contextual banking services, either as their core business or in addition to their offering. 
These companies however cannot stem the immense regulatory duties and financial costs that are tied to maintaining a banking license.
We are an API accessible banking platform to which these companies can connect and integrate banking products directly into their value chains without needing a banking license themselves. 
solarisBank thus provides the technical and regulatory infrastructure for partners to create their own digital banking products in their own brand. These include payments, accounts, cards and loans. This way the companies can focus on their business and delegate the technical and regulatory expertise to us.
In how many countries solarisBank operate and how many customers do you have at the moment?
Currently we have over 70 partner businesses that use our platform to offer their own financial products. So far, we have passported our German banking license to 7 EU countries.
Last year solarisBank chooses SIA to launch new contactless payment cards in Germany. Tell us a little bit more, how is it going?
Our partnership with SIA was a perfect example of how our platform approach works. By bringing on third party providers onto our platform instead of building everything ourselves we save resources and simultaneously bring our partners the best services.
With Insha and Tomorrow two exciting and innovative Neo-Banks that offer our debit cards have launched this year with our platform. Besides these two, many other partners such as the fintechs Penta or Finavi are already successfully using our cards solution.
What are your plans for collaboration with other companies for the future? Any plan to collaborate with other Italian companies?
We have been in dialogue with several Italian companies who have made interesting proposals, and we are currently evaluating the Italian market for possible entries. Forum Banca will be a great opportunity to drive these talks forward.
This summer you launched Blockchain Factory: what is it? How was this new service received in the market?
As an innovative company, we also seek to innovate ourselves. With our in-house Blockchain Factory we want to bridge the worlds of crypto currencies with that of the regulated banking world. 
The solarisBank Blockchain Factory is working on defining the role of a bank in a decentralized world. As a tech-company with a banking license we see ourselves as the ideal banking partner for businesses working on crypto- and blockchain innovations.
For example, with the solarisBank Digital Banking & Cards solution, we can provide digital white-label bank accounts and the issuing of debit cards via APIs to Cryptocurrency companies. They can use these services to link their existing products such as exchanges and wallets with digital bank accounts and cards under their own brand for their own end-customers.
We were pleased to see that the launch was well received by both the press and garnered a large influx of interested partners.
Do you think that collaboration between fintech and banks is the new norm? If yes, why?
We are firm believers in the potential of open banking and thus encourage collaboration between fintechs and banks. However, we do not believe that the status quo of fintechs and traditional banks coexisting together will cement itself as the future paradigm of banking.
It is becoming obvious that many traditional banks cannot become fintechs. However, with the help of licensed partners, fintechs can become banks. We predict that many banks will move into the background to become licensed infrastructure providers and customer centric services – offered by a variety of new market entrants - that integrate banking products into their offering will have a strong impact on the market.
We can see this idea materialising in the adoption of financial services by GAFA. These services will continue to rely on licensed partners to operate, but will be fierce competition to many traditional banks.
Nowadays there are more and more fintechs entering the market, some with dream of disrupting the industry. What advice would you offer them?
Our advice would be not to enter the market with the goal in mind to just offer a digital version of those services that banks are already offer, but rather to focus on how the modern consumer's expectations are changing and how we can reimagine financial services to mold themselves around this new consumer. 
What are your main expectations in attending Forum Banca this year?
At Forum Banca we want to gain a better understanding of how the financial industry in Italy is embracing digital opportunities. We also see this as a great opportunity to show how solarisBank can help to serve modern customers in a new market. We have been following the development of the fintech market in Italy with great interest and look forward to exchanging ideas at the Forum this year.