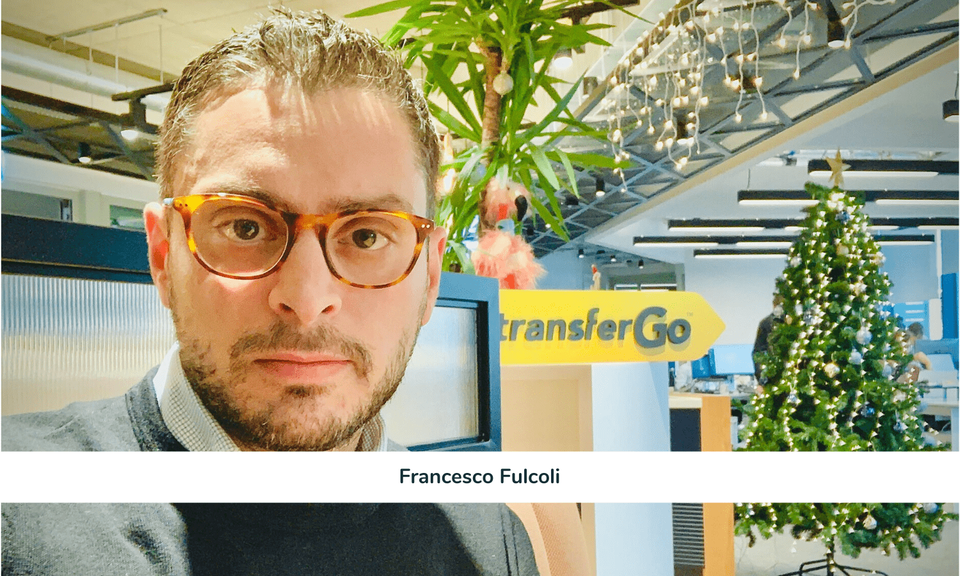 TransferGo is a digital remittance solution for migrant workers and a payment service provider launched on 18 September 2012.
TransferGo is trusted by happy customers all around the world, all this because of their commitment to 100% compliant and ethical behaviour. Chief Compliance Office Francesco Fulcoli tell us about the central role of compliance at TransferGO.
To kick this off, could you please give us a brief introduction about yourself and tell us where are you coming from?
I have been working in the compliance enviroment for the last 15 years. Partly in Italy and the most important one in London where I fully developed my background. I started in the big corporate to moved then in the fintech space where I specialise in building compliance framework and teams around a regtech idea. Lets say long story short I try to automate compliance processes using technology and AI and then build the whole team around.
I've just joined TransferGo as Chief Compliance Officer, one of the most hot fintech in the market with 1.5M customers, revenue growing at 140% YoY and best-rated MT company in the world on Trustpilot so I'm sure you will hear about our projects in the very near future.
What is and what does a Chief Compliance Officer?
The compliance function did change drastically in the last 5 years and not only because the change in regulation but also because did become a lot harder to takle fincrime, that's why all the industry is moving to a more regtech space where the margin of human error is decreasing and the technology is actually helping the function to do a better job with more precision and in real time.
The Compliance officer today is more operational then before, you need to make sure that all the compliance framework is actually working across all the three line of defence. It is fair to say that MLRO and chief compliance officer are merging the responsability so you need to be able to build and control using a completely different structure compared to the one used in the industry so far.
You need to be more focused on the client side rather then only make sure to have the paperwork in order for the regulators. Policy, procedures, quality control, processes, escalations must be all coordinated to make sure the client can have the best, stressless and safest journey when they decide to make a transaction. Of course from the other side you need to prevent fraudsters and criminals to get into the financial system and I believe this is the main difference from the past.
The technology is enabling us to have real time transaction monitoring and screening and this is the only way to make sure we prevent instead of heal wounds and constantly go through remediation.
What does your typical day look like?
Working in the fintech did change completely the way I used to do my job. In the corporate you are tied to hierarchy, timing, useless bureaucracy and function made behind Chinese walls. Here you are part of a project, a dream, a family! everyone at any level can contribute to the success of the whole company regardless the level of your seniority, sharing knowledge help everyone to achieve their goals.
The role of a senior manager like me is to boost all this and make sure no mistake are made when is time to release a change or a product. I think micro management is the biggest mistake made by the financial industry so far, streamline the processes and make them quicker make the whole team proactive and much focused on the real problems within compliance and that's why normally I trust my managers. I normally set the guidelines and then I leave them to give me the solutions. I set short weekly meetings to share updates and issues. On the other side obviously one of my main responsibility is taking care of all stakeholders, partnerships, providers and make sure everyone is on the same page.
What are the most important skills Compliance Managers need?
Today I think the most important skill is definitely the curiosity! old school compliance manager think they just need to sit behind their desk amending policy and procedure when the regulation change. This approach just create bottleneck because you need to understand the product and the flow from the start to the end to make a good compliance framework, just see one side of the medal is not working anymore.
You need to understand the technology as well, be part of the change and not a passive viewer. No matter how long you have been in the industry, if you don't change, study and update your knowledge you just become obsolete.
What types of certification or credentials are required for a Compliance Manager?
Personally I don't value a person based on the kind of certificate, credential or experience they got along the way. I meet people fully qualified, with 5 master, 3 level of certificates, over 10 years of experience and completely out of the real world. Having all this without a "to do" attitude is like having a Ferrari but not the driving licence.
To be a good compliance manager you need to stand next to your team and do the job with them, trust them, share your knowledge with them and make sure to be a real leder and not a boss. These are the real credentials you need to have.
Why fintech and banks need a Compliance Manager?
When you build a financial product the compliance function is the key to make sure:
By following rules and regulation, you protect your company from lawsuits
Your company has the correct crime prevention in place
Your company has policy and procedures to guide your team through the best practice
How important will be regtech and robotic process automation solutions in your job in the future?
I cannot see anything else in the future really. Compliance technology is replacing the old school compliance framework. The AI is helping the function to better understand when there is an issue, a flag, an attempt of crime. Before only people with experience could address a problem and this was a risk because we were giving too much power to a single person but now machines are making this easier for everyone within the function at any level; with this approach you are sure that everyone can understand what is going on, with this new approach everyone is responsible because machines will make clear that there is an issue and if you don't react then someone else will do it for you with all the consequence obviously.
The financial institutions were very close before but now they are opening their door to new stakeholder using API connection. Thinking to build all in house its not sustainable anymore, require time and money and as we know this always effect revenue and that's why the change was very slow.
Using third party providers allow you to have a contingency plan in place, you don't need to be worried if the system stop working for some reasons because you are able to have a backup ready at any time. I believe in a future where the compliance function is tech driven and financial industry is cashless and free from fincrime.
What does the future hold for Compliance Managers?
Definitely new technology. The regulation will bring in new rules to tackle fincrime and regtech solutions need constant change to be in line with that and from the other side financial institutions need to make sure to offer the best service possible to their clients.
Thank you for your time, Francesco, it has been a great pleasure.